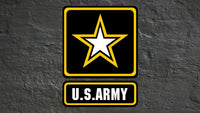 Army Classic Logo Collection
Last Chance Alert! Don't miss out on our exclusive Army Classic Logo Collection, featuring the iconic old Army logo. As the Army adopts a new logo, this is your final opportunity to get a piece of apparel featuring the old logo. Hurry, limited stock available. Grab your favorite Army products with the old logo before they're gone forever!
Shop Now
ARMED FORCES GEAR
At Armed Forces Gear, we proudly carry a tremendous selection of officially-licensed military support clothing, including patriotic shirts, Army jackets, Air Force sweatshirts, and more. Our high-quality offerings are perfect for active service members, veterans, and military family alike. We feature free shipping for qualifying orders and even further savings in our Clearance military products section. No matter which branch of the military you are looking for, Armed Forces Gear has you covered! Take a few moments to browse our entire selection of military clothing and accessories at Armed Forces Gear today!